Though I'm no "techxpert," I do like to play around with various tools and gizmos online, and I thought maybe some of you would have fun with the same…  
I'm a stats-girl, and a maps-girl, so the new statistics counter released this week by WordPress tickled me greatly! It's a flag-by-flag breakdown of where my readers have been when they've read this blog, and a map to match.  How cool is that?
I had fun playing with it for a few minutes, but pretty quickly I wished that I could put it among the "widgets" on the side of my blog (so sad, no can do)…  A little hunting around online, though, and I just found an alternative that does the same…  These are the stats since I started up the count this afternoon (sadly, it doesn't work retroactively), but it's an interactive picture that will keep changing as readers come by–what fun!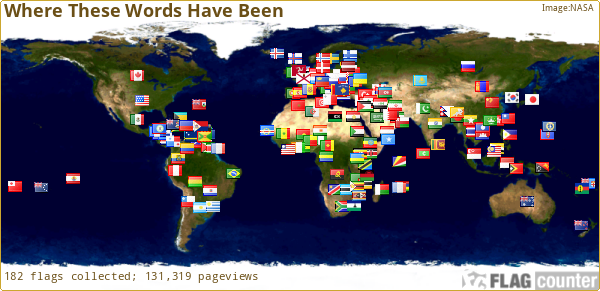 For anyone else who would get a kick out of "collecting flags" and seeing where in the world your words have been read, simply visit FlagCounter.com and choose what kind of display you'd like–a map (as above) or columns of flags (as below)–as well some choices about display information and a header…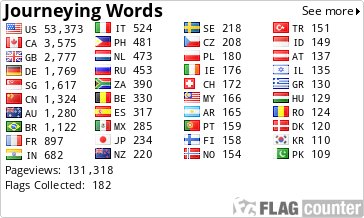 When you've selected all your options, click the "Get Your Flag Counter" button on the screen:
Next thing, the page will give you some coding which you can use on your blog. There's a "quick post" option (for all kinds of formats, including WordPress, Blogger, Twitter, Facebook, and a host of others) which will ask for your login information, and automatically post to your site.  (In WordPress, it creates a new post containing the map or graphic you've chosen.)  OR you can copy the URL and paste that into a "text" widget (that's what I did to add it to the Notebook Stats in my side-bar), or into the body of a post you create yourself (as I've done here).
To add it to a post, click the "HTML" tab at the top right corner of your add-a-post text box, and paste the URL information while you're in the HTML view.  When you click back to the "Visual" editor, ta-da, there it is!
And what do you know–Ireland has joined in just since I started typing!  Maybe I'd better apply for a passport for my blog…